saya sedar post before this agak drastic kn? so waattt? ade aku kesah... mmg betol nk stop kejap blogging. should change my post from
PERGI TAKAN KEMBALI
to
PERGI AKAN KEMBALI
. typoo case!
i've just realized that i shouldn't been lying to myself. waaa? asal tetibe je nie? ok... my sayang told me that he had to do the write thing. and if thing settle up we should get back togtherrr.. tp sampai bilee? wuuuaaa -.-"
ok, i da igt password facebook i balik. eventho amik mase 2 hours to firgure it out backk . haiishhh sumpah menyesal deactivate acc then change the password to some random shitts on keyboard. bhaha XD
*padan la dengan muke kau zuzu oiiittt...
da jgn nk kutuk lg dlm hati korang aku tau -.-"
actually nak tunjuk u guyss hack profile facebook. baru je belaja tadi. haha... best3 :)
baru la gempak sikit kan? and lain dari yang lain sikit dari orang lain yedaakk? tp malangnya bnde nie da heboh kat
kosmo
da if x silap aku la... mmg betol pon... haiishhh... so kire aku nie out dated la kn -.-"
papejelaaaa... tp sumpah x suke the new facebook profile... pening laa pastu semua bnde dia nk tunjuk... hahaha.
korang nak tgk aku nye x?
jengjengjeng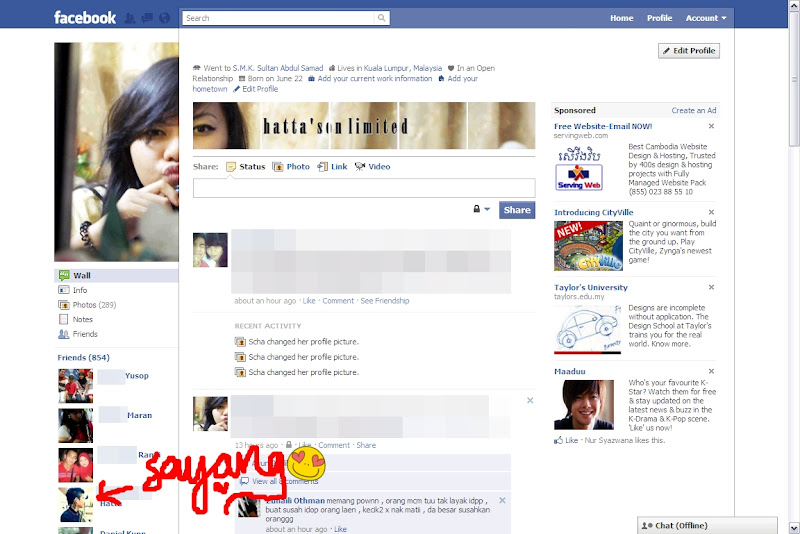 awwhhh-some ayte? haha. jgn jeles tauuuu... hahahaha. yang
SAYANG TU LUPEKAN
... hahaha. menyibuk je... well, aku nie mmg jenis yang agak
bukan
kedekut ilmu so, if korang nak buat jugak g
sini
keyh...
have fun people :) if someone tag gamba kat korang memang gamba tu akan lari... jgn risau la wahai minah and mat... click x je sudahhh... gamba tu takan didelete cume hide dr pandangan org je :P
mesti pelikkan asal xde name sume and asal hide2 tu kn? hahaha. sbb korang takan jumpe fb aku la choiii!
da abis post baru tringat yang da post aku da lame x beri salam... hiisshh. ape nk jadi nie mak cik zulaika oii... anyway, assalamualaikum and ohoooiiii! haha.
keyh
thx
bai
chiow
!